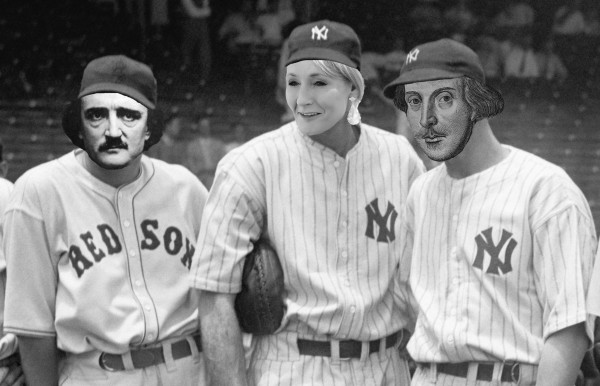 Because I don't have enough blogging platforms already, I went and offered up my services to the Boston-based literary magazine Ploughshares, and they were foolhardy bold enough to take me up on my offer. I'll be blogging for them this year. The first installment of my Fantasy Blog Draft is online today. Here's the main idea:
For too long, fantasy sports have been confined to—well, actual sports. Whether it's historical fantasy sports or contemporary fantasy sports, the literary world has watched from the sidelines as number crunchers and keg tappers compete for glory in an imaginary world of teams with pun–tasticnames like "Sproles Royce," "Apocalypse Noah," "Austin Rivers Runs Through It," "My Dinner With Andrus," and "In the Garden of Wheeden."

No longer. This year the Ploughshares blog will be hosting the first ever (as far as we're aware) Fantasy Blog Draft. Imagine having all your favorite writers, dead or alive, from across multiple genres, eras, and continents, writing for a single blog—curating the news, popular culture, art, Art, and everything in between. Who would man the helm of your Fantasy Blog? What strategy would you use to draft your bloggers?
They've convinced six folks to help me with the endeavor, and these "Fantasy Blog Managers" have put together some great team names and draft strategies, which we'll introduce in two weeks. We will eventually match the teams in a bracket-style competition, and you'll be able to vote on the winners. Follow me as I do this ridiculous thing!