I was supposed to visit Bavaria in 2010, right before I moved from Japan back to New Orleans, but then Eyjafjallajökull erupted in Iceland and I canceled my trip even though my flight was the first one cleared to fly from Tokyo to London: I'm an unabashed mama's boy, and my mom may have had an aneurysm if I'd gone.
I spent the last five years thinking about that trip and imagining the beers in Europe, in particular in Bamberg, and finally this past month I was able to make up the trip. I planned a more surgical strike into Bavaria and Bohemia, covering Prague, Pilsen, Windischeschenbach (for the Zoigl communal beer), and Bamberg.
It was amazing.
The following are my favorite 15 beers of the trip.
15. U Fleků Flekovský Tmavý Ležák 13°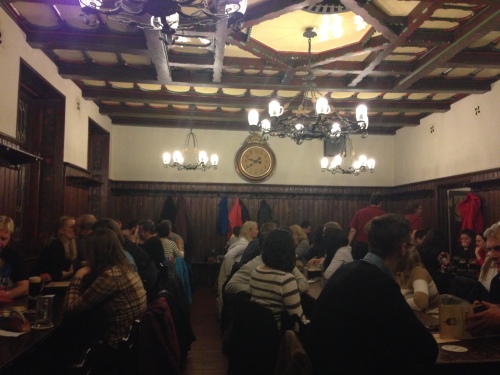 U Fleků was a beautiful traditional-style Czech pub not far south from where our hotel was on the edge of Old Town. They only have one beer—a dark lager—and you don't even have to order: Waiters walk in carrying huge trays full of beer at regular intervals.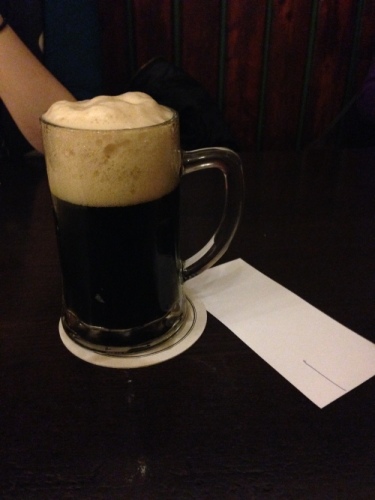 The dark lager here had the most flavor of any of the darks I tried the whole trip: Lots of Czech yeast character (the slightest touch of sulphur) and a hint of roast in a beer with slightly more weight than the lighter 10 plato beers that are standard in the country. Delicious.
14. Pivovar Matuska Apollo Galaxy APA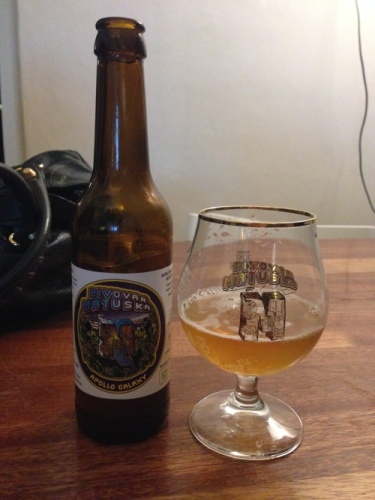 After two straight days of lager, it was refreshing to see a Czech take on an American style ale. The proprietor of U Kunštátů recommended the IPA from the small brewery Matsuka, but I needed something lighter, so I went with the APA. And I'm glad I did. It was basically a perfect beer. Crisply and cleanly fermented, very bitter, and fruity but not overhopped. I'd say it was probably better than 80-90% of American-made American pale ales.
13. Lederer Pils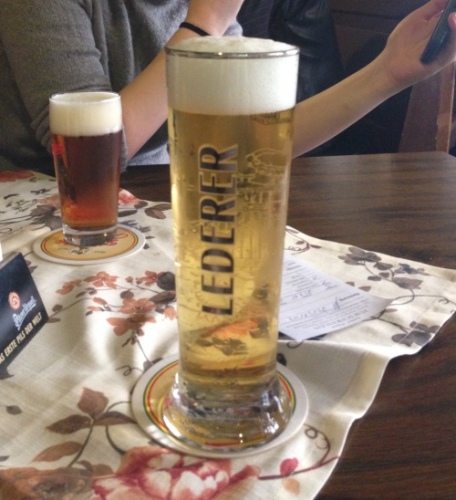 This was the first beer I had in Germany, so it will always have a special place in my heart/stomach/liver. Apparently it's a local macro-ish brew produced now by the Nuremberg brewery Tucher. It's a classic German pils: pale and crisp with a subdued hop bite. It went fantastic with Nuremberger sausages. I had one the night before we left so it was nearly my final beer in Europe, but I snuck in an Alt at the airport in Dusseldorf.
12. Schlenkerla Rauchweizen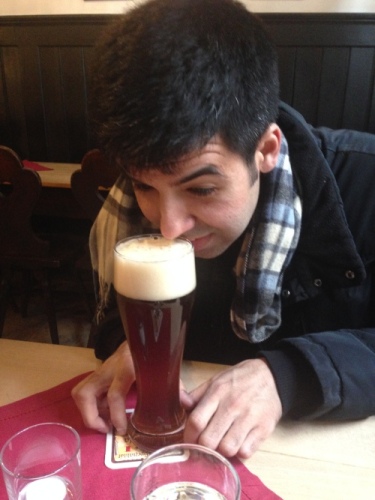 Points off for this one coming from a bottle, but it was delicious and just as smoky as the cask marzen. We killed some time here our last morning in Bamberg waiting for a nearby store to open, and we watched older men take up spots at the table to down a couple early beers. I couldn't tell much difference between this and the marzen, to be honest, but I know it's higher in ABV.
11. Beim Käck'n Zoigl
Beim Käck'n is up the hill in Neuhaus in Windischeschenbach. We got a little lost in the small neighborhood, but once we found the main street it was easy to spot the Zoigl star.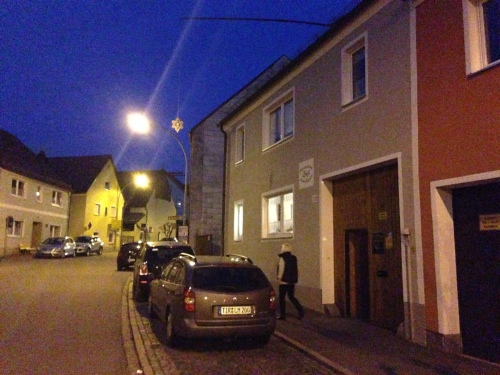 The beer was good, just about the same as the location down the hill but slightly less carbonated. The beer is semi-dark (Munich malt?) and surprisingly hoppy (from what I was expecting), but not hoppy in the American sense. They use exclusively German noble hops which are a bit milder compared to the West Coast snuff.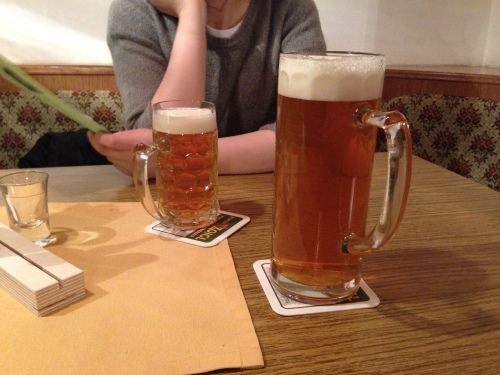 We made friends with some older German guys who were excited that we were there. Good times, solid beer.
10. Beim Glosser Zoigl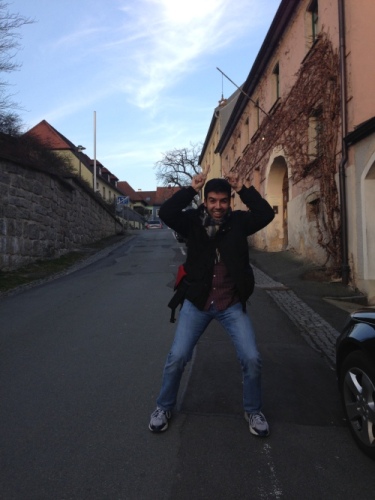 Beim Glosser was right around the corner from our hotel. They recommended sausages stuffed with cheese, and the guy who sat down next to us told us we had to eat them hot.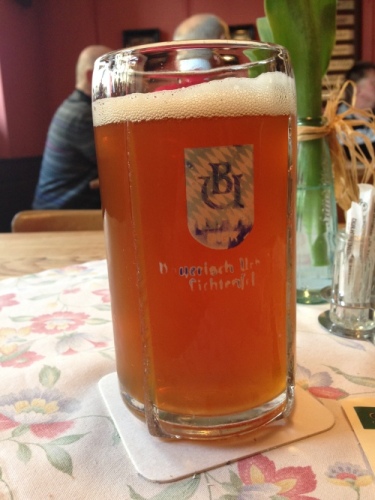 The beer was slightly spritzier than the other Zoigl. Other than that, it was difficult to tell a difference. My notes say that it might have been hoppier, and I vaguely remember thinking that maybe they dryhopped it. The next day was my first true hangover of the trip, although I blame part of it on the loss of an hour due to daylight savings time change.
9. Keesmann Herren Pils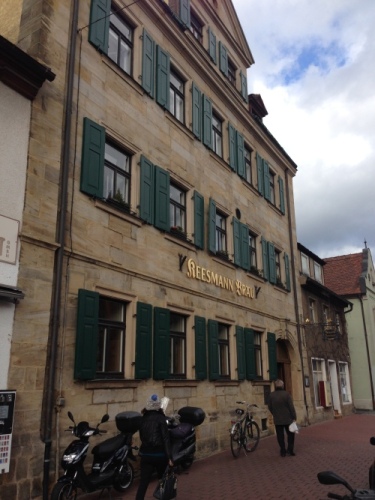 Keesmann is right across the way from Mahrs, but we failed to visit on our first trip to that neighborhood of Bamberg because we were full of schnitzel and already drunk, so we had to make a second trip—no complaints.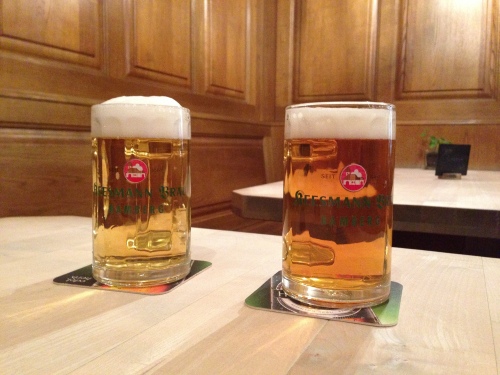 Just a quick trip in for the beers here. We had the Pilsner and a Bock. The Pilsner was on the left. You can see how pale it is. Incredible. Clear and crisp with a sharp hop aftertaste. It was the best Pilsner on the trip, and I'm glad my friend encouraged me to make the trip back for it.
8. Mahrs "The U"
It took two trips to Mahrs to fully appreciate this beer. The first trip was made very late in the evening after a drunken nap that went longer than I intended. The beer was hoppy, a bit sour (not in an unpleasant way), and yeasty. The mug we had the second trip may have been fresher—it was more carbonated and seemed slightly paler.
I imagine that the cask we got the night before had been sitting out for longer than the second one. A fantastic beer. One that you can just drink forever. When I think back now, it seems to have similarities with the Zoigl beers.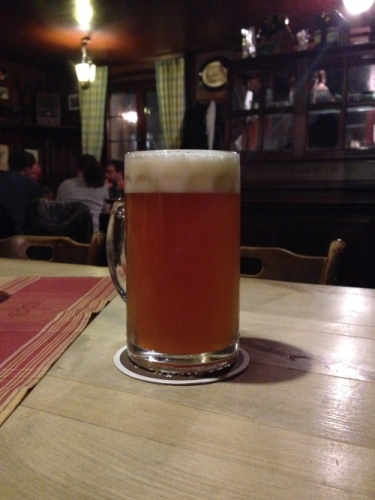 7. Úněticé 10° světlé
For lunch one day in Prague we went up to T-Anker, this restaurant on the top floor of a small shopping center. They had a great view of the city and a very respectable selection of beers, including even one from Matuska.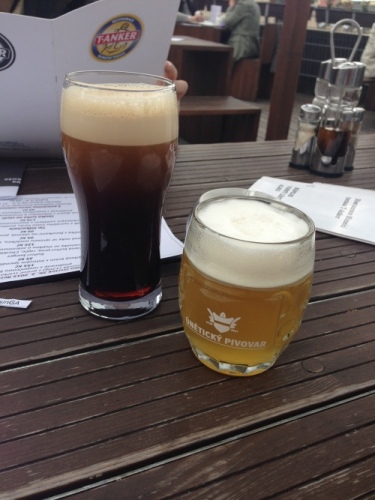 The Úněticé 10° světlé is your basic pale Czech lager. I love that the breweries put the gravity of the beer on labels in the Czech Republic. Just multiply by 4 to get 1.040, the gravity reading that homebrewers might be familiar with. This is a low gravity that results in a 4% ABV beer or so. It has the characteristic Czech yeast flavor—a little bready with traces of sulphur. It was so good that I had another in lieu of coffee or dessert.
I've been back for two weeks now, so all the flavor sensations feel just beyond my memories, but this one stands out for its pleasant bitterness, for being unfiltered (like many), and well carbonated…which was not true of many of the Czech beers! I feel like they were either purposefully not well carbonated or gassed off during the serving process. The beers were served with lots of foam, and often the server jets the beer aggressively into the bottom of the glass in order to generate the foam, which reduces the carbonation.
6. Pilsner Urquell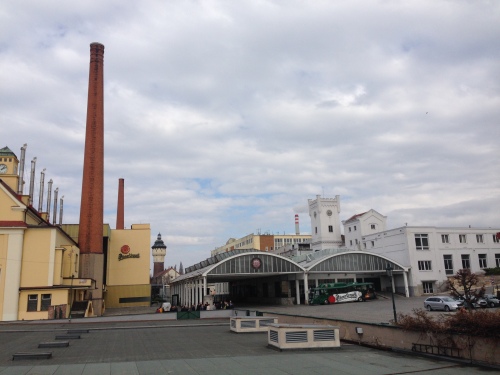 The last stop on the Urquell tour is the caves under the factory where they still have a few wooden barrels full of beer fermenting openly—you can see the krausen threatening to spill over the top. Then they take you a little farther into the lagering cave where the barrels have been sealed and rolled up next to the walls. A friendly old man pours everyone a cup full of unfiltered, unpasteurized Pilsner from one of the barrels. It's pretty magical experience for a beer nerd.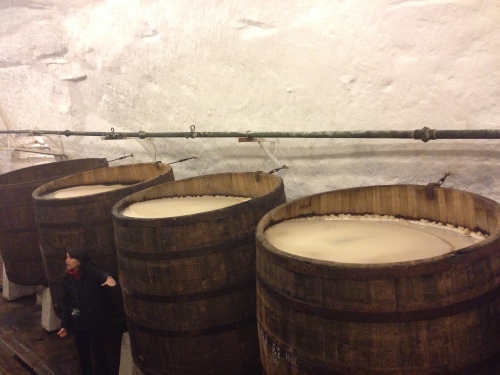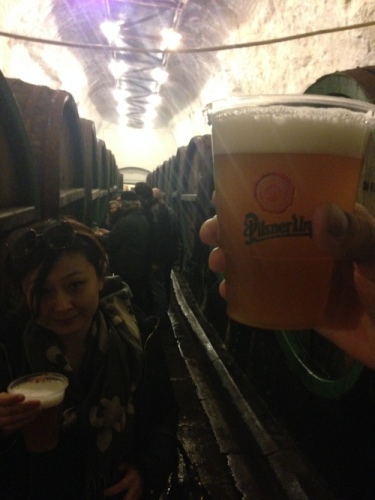 The beer itself is perfect. Slightly higher in alcohol and more golden than Czech pale lager thanks to more barley and a triple decoction. It has many of the same characteristics as the other Czech pale lagers but is much richer.
5. Schlenkerla Marzen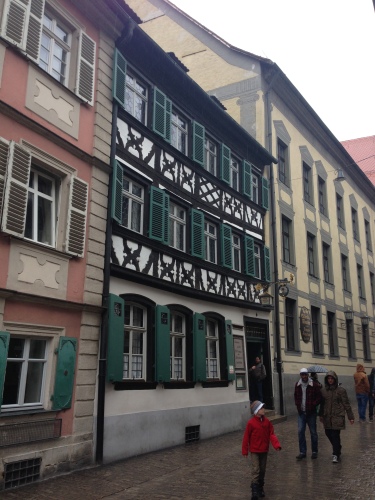 This is the beer I booked the trip for. My friend Paul recommended it to me at some point when I was living in Tokyo, and I eventually picked up a bottle at a shop in Mejiro (the legendary Tanakaya). I was hooked on rauchbier.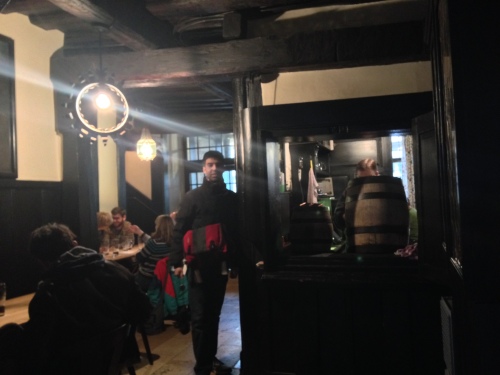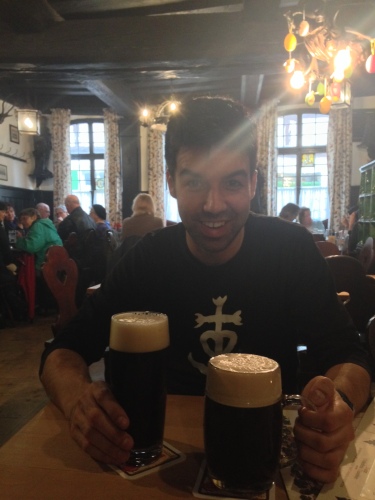 It's surprisingly different on cask in Bamberg: the smokiness is far more intense, and different in quality from the other rauchbiers in Bamberg. There's something more phenolic and smokey rather than bacon-y. It's just on the border of being over the top and unpleasant, but it's not. It's very good. Much darker than the other rauchbier in town. The marzen is on the left. The beer on the right is the seasonal fastenbier.
4. Buttenheim St. Georgen Landbier
This is one of the beers I think back to most often. It's also one of the few beers that generated an almost physical response in me: I was shocked how good it was. This isn't to dismiss the other beers on the trip—they, too, were amazing—but I just wasn't ready for how superlative this beer was.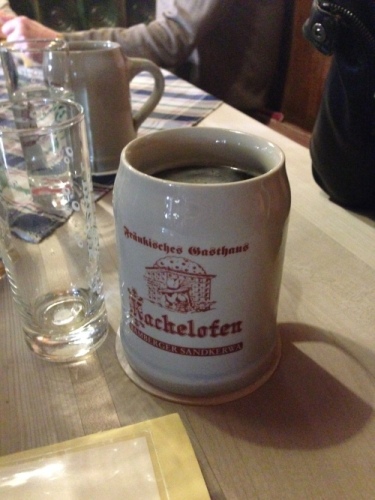 My buddy Paul, who was there, too, said something like, "How do they do that?" And I couldn't say. Landbier is a pretty simple style. Mostly Pilsner or Vienna malt, probably some Munich malt, hopped with Hallertauer hops, fermented cleanly with a local lager yeast, and served in a ceramic mug. I wish I'd gone back for another. Next time I'll have to make the trek to Buttenheim.
(I just spent five minutes on Google Maps checking out the route from Bamberg to Buttenheim. Looks like it would be a three-hour hike, a one-hour bike ride, or a half-hour train ride.)
3. Ferdinand Lager
I know U Kunštátů was a nice bar because when we arrived looking for food, they told us they had none and recommended a nearby brew pub (basically a competitor). After being fed and sauntering around Prague for a bit, we came back and I asked for a mug of the only beer they had on tap—Ferdinand. I'm not sure whether it was their 10, 11, or 12, but I'd guess the 12, which would be the same gravity as Pilsner Urquell (i.e. 1.048 OG).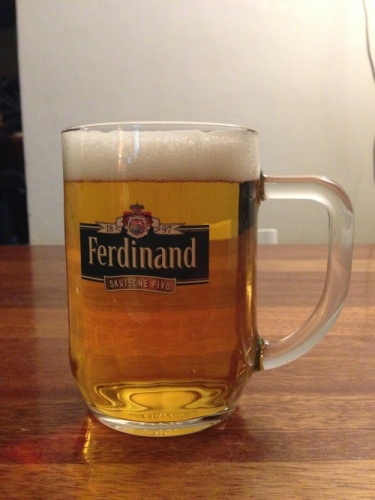 They said it had been kegged "two hours" before, which could be true since Benešov, the town where Ferdinand is brewed, is only a half hour away from Prague, but I took it to mean that the beer had been kegged that day and was extremely fresh.
It was crisp, not completely clean in a very typically Czech way, and clear despite the fact that it was unpasteurized and unfiltered. My notes tell me there wasn't as much sulphur as in the Pilsner I had with dinner, but that it still had some—that Czech funk. Just a delicious, crisp, bitter, spritzy beer. You can't ask for much more.
2. Spezial Ungespundetes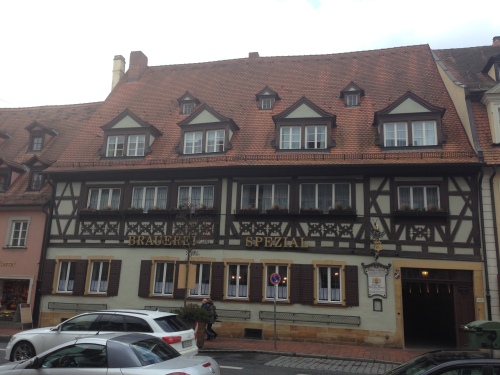 We stayed two nights at Spezial when we only intended to stay one, and I'm glad we did. Their breakfast spread was better, the rooms were better appointed, they had wifi, and the beer was amazing. But you don't have to stay there to try the beer.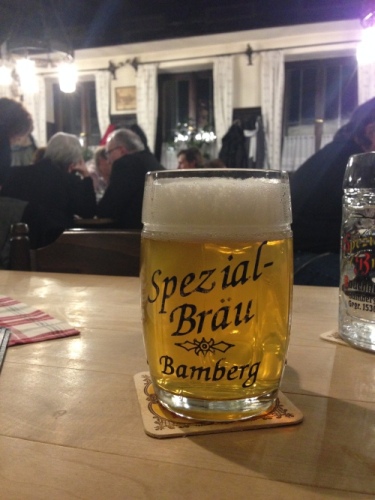 I didn't have the U at Spezial until later on our first day in Bamberg. We had the lager, walked around the town, tried Schlenkerla, had a nap, and then came back down for a late night snack. The kitchen had already closed the hot food (Spezial is pretty strict with their meal hours), so I ordered Camembert and bread and one of these, which was a perfectly good snack for me.
The beer was perfect. Noticeably bitter and hoppy with great malt backbone but still light. This is what beer is supposed to be. I had it a number of times on the trip, and the hoppiness seemed to vary slightly.
1. Spezial Lager
For me, this was the beer of the trip. It's a rauchbier, but they call it the "Lager" and that's what you order. It's crystal clear, nice and brown, and intensely smokey but not off-putting at all. On the contrary, because your taste buds get used to the smoke, you just keep drinking more and more in search of that first smoke shock.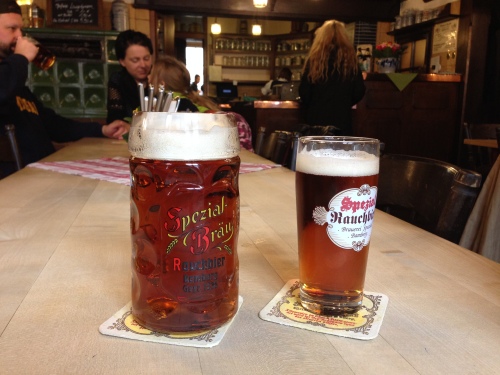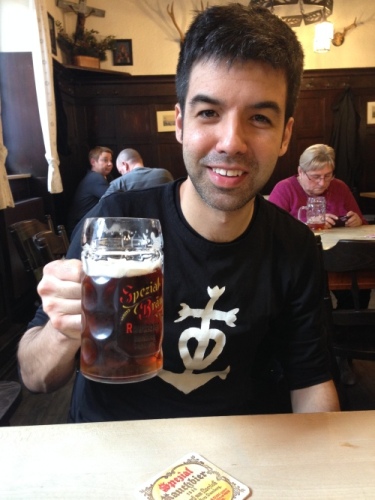 The smoke was more hammy than the Schlenkerla rauchbier and paired perfectly with German food. It's also served off gas instead of off cask, so it has some carbonation to it, which was good for me. I like bubbles in my beers. Definitely worth the trip.
__
I thought I had done a good bit of drinking on the trip, but now that I sit down and tally up all the beers, I seem to have averaged three beers a day, which is a pretty reasonable pace. It's a marathon, not a sprint. I have to thank Paul for recommendations (especially the Zoigl tip) as well as the Prague tourism website (which never failed us—they only list solid bars and restaurants; check out the PDF at the bottom of the link) and Fred Waltman's The Beer Drinker's Guide to Bamberg.
So go on and get over there. The dollar is mighty at the moment, and the transportation in Germany and the Czech Republic made getting around an absolute pleasure.