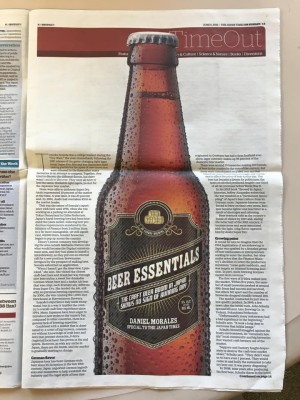 I was in The Japan Times a week or so ago with an article about craft beer in Japan: "Beer Essentials: The craft beer boom in Japan shows no signs of running dry." I'm pretty happy with the way it came out, both the text and the awesome layout they put together. This is my first feature article anywhere and my first non-Bilingual, non-Murakami article in the JT.
I wish I had better news to report: Japanese craft beer is gradually becoming more plentiful, but it's still expensive and the quality isn't improving as quickly. Although, to be perfectly honest, I think the quality of American craft beer isn't all it's made out to be.
Yes, we have a lot to choose from, but it's not cheap, and it can be difficult to find reliable breweries. The truly excellent breweries are thriving: Sierra Nevada, Goose Island, Ommegang, Boulevard, Brooklyn…in terms of smaller more regional breweries that I'm familiar with, Urban Chestnut, Revolution, Prairie, Cigar City.
But for each of these you have smaller breweries that are producing subpar beer. Breweries that will devote half of their tap selection to IPAs that are difficult to distinguish.
So I think the comparison with the U.S. scene is overblown. I was impressed with Japanese macrobrew on my last trip. Yebisu and Yebisu Black are delicious beers. Even Super Dry is very drinkable…it has a nice bitterness not present in most American macrobrew. If only it were a bit cheaper…maybe 50-80 yen cheaper per can? I guess we just have to hope for a tax equalization at some point.